Thy Will Be Done - Part 2
Thy Will be Done Part 2
"Behold, I come to do Thy Will"
These are the sentiments of Our Lord. but the same words could have also come from the lips of Our Lady.
The very first time we see Our Lady in the Bible she says, "Be it done to me according to thy word"
And through her Fiat, the Word was made flesh and time split in two.
From that moment, all of history would be reckoned either "Before Christ", or "Anno Domini"
The introduction of Our Lady should be written in large letters of gold.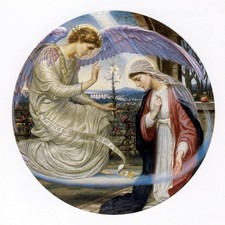 The angel Gabriel comes to her.
Think of it. An angel. (not a fluffy cherub)
The angels of the Bible are strength and beauty.
They also have a strange effect on people.
Men typically fall flat on their faces at sight of an angel.
But the angel Gabriel visits a girl of 14 and what happens?
He bows to her, saying, "Hail, full of grace"
An angel does not lie (well, at least the good ones don't!)
If he said she was full of grace, then she was full of grace. This is an important passage when discussing matters of the Faith with our Protestant friends. (hopefully in a spirit of charity and helpfulness rather than the polarizing, "HA! Take that!)

God willed that it be through Our Lady's acceptance He should come to earth as man.
Our Redemption depended on her Fiat.

Can it be that the acceptance of the Will of God is also the channel by which we become a channel of grace to others? Can we do more good by the faithful accomplishment of our duty of state than by other means if these are not the Will of God for us?
Can the patient acceptance of God's Will and faithful accomplishment of that Will be the means by which we are sanctified and bring special graces to our family?